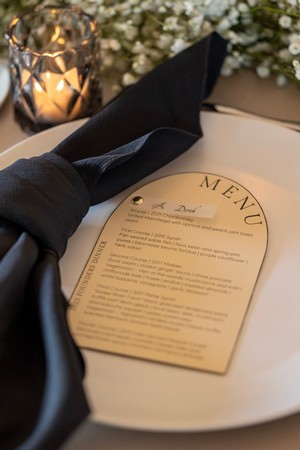 Harvest Tasting Experience - Members
Members Harvest Tasting Experience
2023 Harvest Tasting Experience
Get ready to immerse yourself in a sensory celebration like no other! Avensole Winery cordially invites you to our much-anticipated event: the 2023 Harvest Tasting Experience.
Prepare for an extraordinary collaboration between our accomplished Executive Chef, Taylor Israelsen, and our Winemaker Extraordinaire, Renato Sais.
Wednesday, November 1st
Members: $130 + tax
Non-Members: $150 + tax
On arrival
Sheeps Milk Ricotta Station by Jack Ford
Course One
Fresh chevre – Grape leaves soaked in Avensole Viognier – sea salt tuile – faux soil
Paired with: 2022 Suan – 100% Sauvignon Blanc
Course Two
Potato pave – caviar – El Tartar – Crème Fraiche – Parsley oil – micro parsley
Paired with: 2022 Viognier
Course Three
Squab Pot Pie – croissant dough – butternut squash volute – shallot – pumpkin – sage – chervil
Paired with: 2019 Lytton Cabernet Sauvignon
Course Four
Elk Tenderloin Medallion – merlot salt – pomegranate seeds – burled shallot – loaded fingerling potato – concord grape sauce
Paire with: 2020 Retaggio
Course Five
Fig leaf ice cream – Temecula blood orange olive oil cake – pistachio crumble – fig puree – lavender – meringue – rum flambe
Paired with: 2019 Aventura
Seating is limited, Members receive exclusive priority access until Friday, October 20th. Open to the general public starting Saturday, October 21st.
We look forward to sharing this remarkable Harvest tasting experience with you all.
Secure Your Tickets Now!
(You will need to be logged into your member account to purchase the tickets at the member price)
+ 21+ only event
+ Limited seating available
+ No refunds on ticket purchases
+ Member complimentary glasses are not available at the event
+ No food substations available for this experience
+ Additional wine will be available to purchase from the bar
Product Reviews